Tickets / Further information
OperaCard / JuniorCard
Opera Card
Buy an OpernCard and get 30% off tickets for the opera for a year!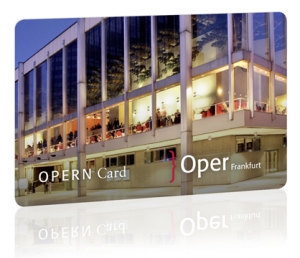 OpernCards now cost €95, are valid for a year, and allow you to apply for a 30% reduction on ticket prices for performances at Oper Frankfurt. With your OpernCard and proof of identity at the ready tickets can be purchased from the pre-booking or evening box offices (pre-booking box office is open Mon – Fri 10am – 6pm, Sat 10am – 2pm, evening box office opens one hour before the performance begins). You can also order tickets by telephone: (069) 212 49 49 4 (Mon – Sat: 9am – 7pm, Son: 10am – 2pm). You may not use your OpernCard for first nights of new productions, or performances on New Year's Eve.
JuniorCard
An evening at the opera for two for just €15 each!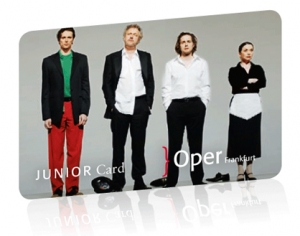 If you are younger than 30, like going to the opera but would rather not go alone; if you would like a good seat but can't afford to pay a lot then a JuniorCard is just what you need. You can buy one from the pre-booking box office or online. They cost €10 and are valid for a year. If you feel like seeing an opera then come to the evening box office on the evening of the performance, present your card and you and your companion (who must also be under 30) will be given the best available seats (but not in the top price group). You maynot use your card for first nights of new productions, performances in the 2 Der Ring des Nibelungen cycles or the performance on New Year's Eve.
PURCHASING YOUR OPERNCARD OR JUNIORCARD
They are available from Oper Frankfurt's pre-booking box office on Willy-Brandt-Platz. They can also be ordered by email: we need your address and credit card details (number, valid until date and the last three numbers on the back of the card) and your card will be posted to you. These might also be a good idea as a present for somebody – just give us the name of the person concerned and…voila!. Email address for ordering cards: AboService.Oper@buehnen-frankfurt.de