Tickets / Further information
Seating Plan / Prices / Online Purchase
SEATING PLAN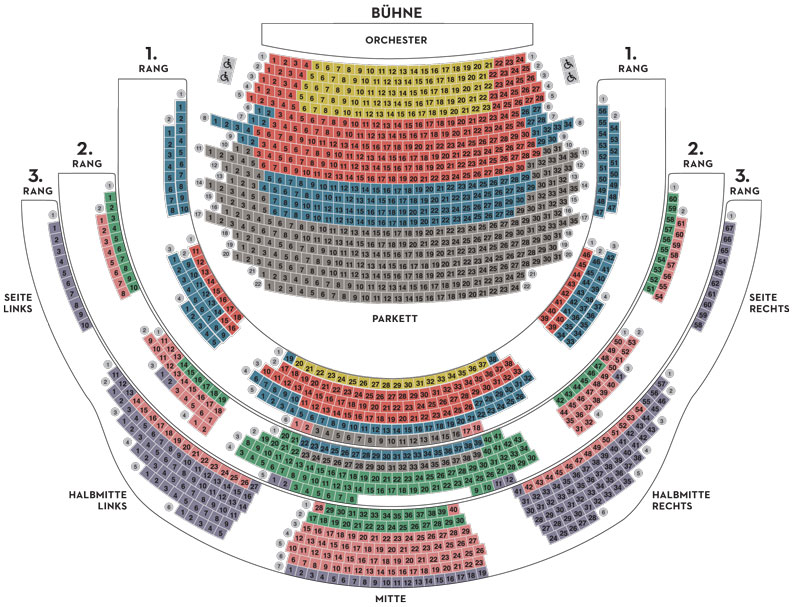 Click here to see a larger version of the plan.
Please note that it is not possible to see the full depth of the stage from seats at the sides of the circles.
It is not always possible to read surtitles (whichh are not included in the price of a ticket), provided in German and English for nearly all productions, although new monitors have improved matters a great deal for German speakers. ENGLISH surtitles appear on the large monitor above the stage - to the right of the German surtitles - so PLEASE bear this in mind when chosing where to sit.
Ticket Prices
VII

VI

V

IV

III

II

I

P
19
39
61
85
112
132
165
Euro
S1
17
36
53
75
94
114
135
Euro
S2
15
34
48
61
75
95
115
Euro
A
15
33
46
59
71
91
105
Euro
B
15
31
43
56
68
81
95
Euro
C
15
28
42
53
61
74
87
Euro
A booking fee of 12.5% is added to tickets purchased through external outlets. There is no booking fee for tickets purchased direct from Oper Frankfurt.
To find which price categories have been allocated to a performance simply click on the relevant date in the season's calendar.
Ticket Hotline: + 49 (0) 69 / 212 49 49 4

ADVANCE BOX OFFICE. is situated between the entrances to the opera and play houses on Willy-Brandt-Platz
opening hours: Mon - Fri 10am - 6pm, Sat 10am - 2pm
BOOKING TICKETS ONLINE
You can now make Online Bookings in your own Web Shop, which can be accessed by clicking on the link above the calendar on all pages of the website, enlarge to select "englisch" instead of German. Seats can be selected from the theatre's seating plan right up until the date of the performance in question. You might have to wait a little while until the seating plan is up-dated. Click on the seats you want and register if you are eligible for a reduction in price (50% reduction on ticket prices online is available to school children/students and people with severe disabilities - from 50% MdE. In both cases it might be necessary to have documentation with you to prove your age or severity of disability.) It is not possible to select places for events when seats are on offer on a first come, first served basis.
Now click "In den Einkaufswagen/in your shopping basket"and you will see which tickets you have chosen and what they cost.
IMPORTANT: there are two ways to receive your tickets: POSTVERSAND/TO BE SENT BY POST is default: there is a charge of €3 for sending tickets by post (for one or twenty, in Germany or abroad). If time is too short for the tickets to be sent"Abholung"/"Collection" will automatically appear: the tickets will be held in your name at the concierge desk before the performance at the venue in question; so you do not have to queue up at the evening box office.
"TICKETDIRECT/TICKETS DIRECT" allows you to PRINT THE TICKETS OUT AT HOME. (these tickets do not allow you to travel free to and from the performance on public transport (RMV). We hope that this might be possible in the future once the RMV have come up with a way to make this fraud free.)
Then click on "Weiter"/"Continue". Register, if using the Web Shop for the first time, or enter your password. You can book tickets for as many performances as you like in one transaction.
Now you can pay by credit card (Mastercard, VISA, American Express and Diners Card). There is no pre-booking charge for tickets purchased online at the Web Shop.
Oper Frankfurt's website operates via a secure server, your details cannot be seen by a third party.