Opera for You
For young adults
Do you like listening to classical music? Would you like to get to know others who share your curiosity and want to see a whole opera? Then come and enjoy a Day at the Opera! While the stage is being prepared for the performance that evening we will take you to a room where you can slip into roles and costumes and get to know the opera you are about to see better. Before the performance begins you will be taken to the artists' canteen for something to eat.
These events begin in the early afternoon and cost €30, €20 for membesr of the Jugendclub (youth club), - includes workshop, something to eat and a ticket to the opera.
Tosca
Saturday September 22 2018
Rusalka
Saturday October 27 2018
Carmen
Sunday March 3 2019
Apply to sign up, one moth before the date in question, via: jetzt@buehnen-frankfurt.de
Juniorcard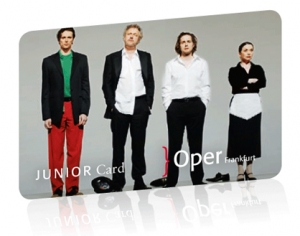 Go and see a performance at the opera with a friend and only pay €15 each!
A JuniorCard costs €10 and is valid for a year. It enables two people under the age of 31 to apply for 2 tickets - costing €15 each - at the evening box office.
Cards on sale at the advance box office or via e mail.
This does not apply for new productions and other special events.