Tickets / Further information
Restaurants and in-house catering
interval refreshments in the opera
Our in-house catering firm Huber want to make your visit even more enjoyable. Drinks for the interval can be ordered from the bars on the ground floor, first floor and third floor (Rangs), or via the email address below. If you want to sit down to a light supper as well, all you have to do is to go to the main bar on the first floor and order from the Fundus menu, or via the email address below. Your meal will then be waiting for you at an allocated table in the large (Wolken/Couds) foyer on the first floor of the opera house.
Book in advance, here: service@huber1911.de
Phone: 06172 / 17 11 90
Fundus Theatre Restaurant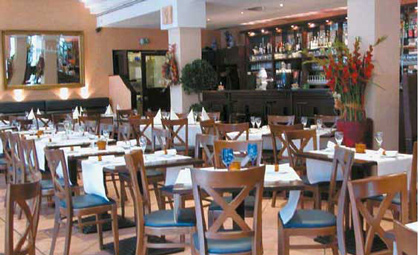 A favourite meeting point for theatre goers after a performance with international cuisine and attractive surroundings.
Willy-Brandt-Platz 1-3, 60311 Frankfurt/Main
(left hand corner of the building housing the theatre when you are facing it)
Phone: 069 / 231 590
E-mail: service@huber-partyservice.de
Web: Fundus Theatercafé
Opening hours: Mon - Fri 11am - 12pm, Sat + Sun from 5pm
LOHNINGER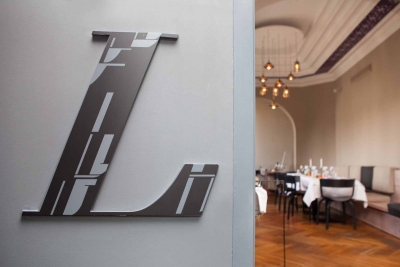 One of the best restaurants in Frankfurt. Gault&Millau voted its owner Mario Lohninger Cook of the Year in 2011. The menu has French, American and Asian elements. This a top class family run Restaurant, Mario's father Cooks there too and his mother chooses the wine.
Schweizer Straße 1, 60594 Frankfurt am Main
(just over the river from the opera house)
Phone: 069 / 247 557 860
E-mail: Reservierung@lohninger.de
Web: www.lohninger.de
Mon - Son 12.00 bis 01.00 hrs
PACIFIC COLORS RESTAURANT / VISTA BAR & LOUNGE - HILTON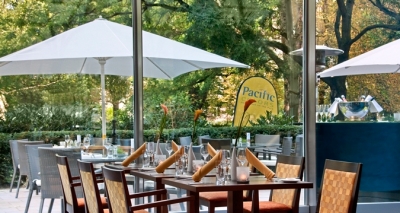 Enjoy fine local and international cuisine at Pacific Colors Restaurant at Hilton Frankfurt. Light floods into this high-ceilinged restaurant and the floor-to-ceiling windows allow for beautiful park views. During the summer months, enjoy the spacious park terrace and savor delicious food and drinks.
At the famous Vista Bar & Lounge you can take a refreshing break or enjoy an aperitif in this inviting venue, featuring a 45m-high glass-domed atrium. Sit back and choose from a wide selection of cocktails, wines and tempting snacks while enjoying the unique atmosphere.
Hilton Frankfurt, Hochstraße 4, 60313 Frankfurt
(ca. 8 min on foot)
Phone: 069 / 133 80 2450
E-mail: info.frankfurt@hilton.com
Web: www.frankfurt.hilton.com
Pacific Colors Restaurant
Mon – Sun 06:30am - 11:00pm
Vista Bar & Lounge
Mon-Fri 08:00 – 12:00am
Sat – Sun 09:00 – 12:00am
OSCAR'S, CAFÉ BAR RESTAURANT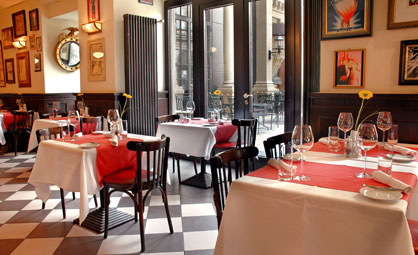 Part of the old and established Frankfurter Hof Hotel, this french bistro is popular because of its pleasant atmosphere and wonderful cooking.
Am Kaiserplatz, 60311 Frankfurt am Main
(in Frankfurter Hof Hotel, c. 2 minutes by foot)
Phone: 069 / 21 51 18
Fax: 069 / 21 51 19
E-mail: gastronomiedirektion@frankfurter-hof.steigenberger.de
Web: www.frankfurter-hof.steigenberger.de
Operning hours: Mon - Sun 11am - 01am