Sponsors & Ensemble Dinner
Fellows & Friends
JOIN FELLOWS & FRIENDS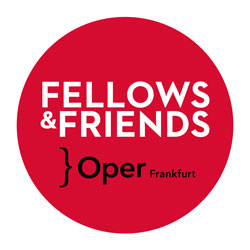 Become a partner in Oper Frankfurt's new Fellows & Friends Programme. As part of this high level network you can invite business customers to top quality performances of operas and special network events, making new contacts in Frankfurt.
SAVE THE DATE Frankfurt Perspectives – Chaired discussion November 13 2019
What you can expect as a Fellow & Friend:
You and your (new-) customers and business associates have the chance to act as a hosts of first class LIVE experiences in the heart of Frankfurt.
You become part of Oper Frankfurt's network of sponsors, decision makers and business magnates in the Rhein Main region.
You can actively and publicly promote the partnership. You presence will appear in Oper Frankfurt's printed and online media.
Please contact our Development Department if you have any questions or would like further information.
Max-Joseph Groß
Head of Business Development & Sponsoring
Tel.: +49 (0)69 212 37178 / 37189
Max-Joseph.Gross@buehnen-frankfurt.de