The Chorus
The Chorus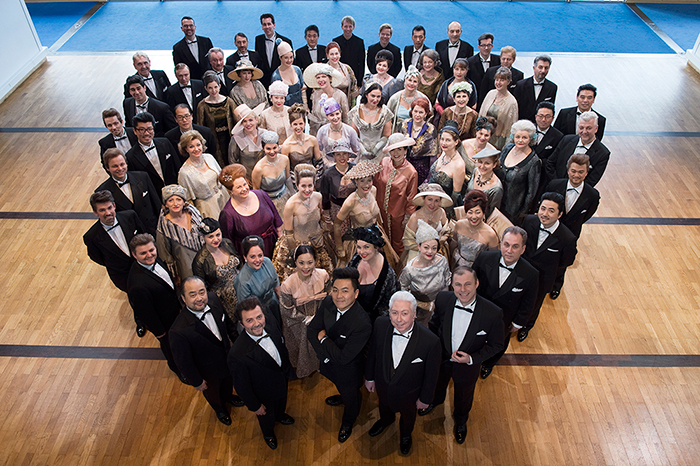 Oper Frankfurt's chorus is one of the largest in Germany. The stagione-system was introduced in 1993 and the chorus reduced. A few years later Oper Frankfurt returned to the repertoire system and the chorus was enlarged again. It is now possible to perform operas with demanding roles for a large chorus using the chorus' own forces, with only the occasional help of extra chorus members.
Tilman Michael, the new Chorus Master, began working in Frankfurt at the beginning of the 2014/15 season. The Chorus' extraordinary achievements are regularly acknowledged by the public and press alike. In 2005 "Opernwelt" awarded them second place in the category "Opera Chorus of the Year".
A chorus' "role" in an opera is often as difficult and demanding as a soloists "leading role" - one only has to think of Verdi's operas or great Russian operas such as Mussorgsky's "Khowanshchina".
Solo roles are regularly entrusted to members of Opera Frankfurt's Chorus. This means that chorus singers' voices are also trained to soloist standards so that their voice can »carry« in the opera house. They must train every day, even on days when there is no performance. They constantly work at furthering their artistic development in lessons, on the operatic stage or in concert.
The international spectrum of the opera's chorus is huge - with members from the USA, Russia, China, Korea, Japan, Chile, the Ukraine, Lithuania, Switzerland, Austria, France, Italy, Spain, Serbia, Albania and, of course, Germany. This babylonian mixture of languages ceases when the chorus sing on stage in a common language: in German, Italian, English, French, Russian and Czech. This in itself is impressive enough but they must also sing everything from memory.
If you would like to enquire about vacancies in the Opera Chorus, Extra Chorus or Children's chorus, or have any other questions about the Frankfurt Opera Chorus, send an email to michael.schulte@buehnen-frankfurt.de.
Chorus Master
Tilman Michael
Phone + 49 (0)69 212 37 548
E-mail: tilman.michael@buehnen-frankfurt.de
ASSISTANT TO Chorus Master & Children's Chorus Master
Markus Ehmann
Chorus Office
Katharina Heller
E-mail: katharina.heller@buehnen-frankfurt.de
Michael Schulte
E-mail: michael.schulte@buehnen-frankfurt.de
Tel. 069-212 37402
SOPRANOS
Malin Aldener Nardi, Julia Bell, Christine Brenk, Marta Casas, Janice Creswell, Katrin Dieckelt, Stefanie Heidinger, Birgit Herget, Ursula Hering, Julia Katharina Heße, Alketa Hoxha, Bock-Sill Kim, Eui Kyung Kim, Elke Kerstin Nordeck, Anna Oswald, Kalliopi Patrona, Camelia Suzana Peteu, Jadranka Petrovic-Cadez, Edeltraud Pruß, Lucía Revert Tomás, Bianca Schatte, Michaela Gisela Schaudel, Konstanze Schlaud, Anikó Takács, Birgit Treschau, Magdalena Tomczuk
ALTOS
Gunda Boote, Enikö Boros, Janet Collins, Claudia Grunwald, Yvonne Hettegger, Claudia Heuel, Anna-Katharina Hilpert, Katja Isken-Sturm, Franziska Jobst, Young Sook Kim, Anja Knittel, Tiina Lönnmark, Julia Mattheis, Hiromi Mori, Tatiana Press, Josephine Claire Rösener, Anna Suchotzkaja, Svea Verfürth, Christiane Maria Waschk-Gemünd, Jianhua Zhu
TENORS
Roberto Cassani, Hyun Ouk Cho, Alexey Egorov, Sebastian Franz, Boris Goldberg, Donát Havár, Patrick Henckens, Ricardo Iturra, Sung Ho Kim, Young Shik Kim, Hyung Kwon Lee, Johannes Lehner, Pere Llompart, Constantin Neiconi, Florian Richter, Enzo Salini, Won Woo Shim, Otakar Souček, Dominic Stewart
BASSES
Thomas Charrois, Yan Lei Chen, Jin Soo Choi, Dong-Hyub Hong, Garegin Hovsepian, Cheol Kang, Nicolai Klawa, Hyeonjoon Kwon, Jin Soo Lee, Yongchul Lim, Elmar Oberhomburg, Lars Rößler, Thomas Schobert, Gerhard Singer, Pavel Smirnov, Boris Stenzel
Oper Frankfurt's Children's Chorus
There are 70 singers, aged between 6 and 18, in Oper Frankfurt's Children's Chorus. They rehearse at least once a week, in addition to rehearsals for productions. There are also 30 children in the so-called pre-chorus, preparing to join the children's chorus, trained by Bettina Weber. Boys voices break, which means that they generally leave the chorus earlier than girls. The children have taken part in many productions and the three "boys" in Die Zauberflöte have been sung by members of this chorus since 2010.
Children's Chorus Master: Markus Ehmann