Ensemble, Guests, Opera Studio & Opera Team
Opera Studio
Julia Moorman, Michael Petruccelli, Bianca Andrew, Anatoli Suprun, Iain MacNeil, Kelsey Lauritano, Jaeil Kim, Florina Ilie
© Wolfgang Runkel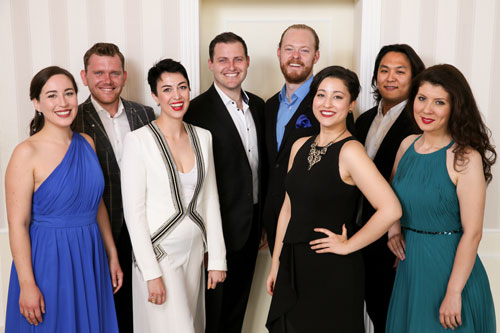 Oper Frankfurt's aim when the Opera Studio opened in 2008/09 was to help young singers embarking on a career by actively supporting them, providing professional teachers to help them hone their skills and, possibly, building a long term relationship with some of these highly qualified young artists.
The reason why it is so important to have an Opera Studio has been proved once again: in 2016/17 the British bass baritone Thomas Faulkner and Russian mezzo-soprano Maria Pantiukhova joined the Ensemble, followed by the American mezzo-soprano Julia Dawson in 2017/18 and Polish baritone Mikołaj Trąbka in 2018/19. Former members of the studio returned recently as guests: Jessica Strong for the title role in Barber's Vanessa and Marta in Weinberg's Die Passagierin/The (female) Passenger and Nora Friedrichs for Blonde in Die Entführung aus dem Serail.
This season the New Zealand mezzo soprano Bianca Andrew, Korean tenor Jaeil Kim, Canadian baritone Iain MacNeil and Ukrainian bass Anatolii Suprun are joined by the Romanian soprano Florina Ilie, American soprano Julia Moorman, American mezzo-soprano Kelsey Lauritano and Australian tenor Michael Petruccelli.
They take part in regular masterclasses held by internationally renowned artists and are cast in small, and sometimes not so small roles in productions. All the singers have said that they learn most from taking part in performances.
Come and follow the artistic development of these artists on stage and in their series of concerts »Opera Studio Soirées« in the Holz Foyer. They help Oper Frankfurt's commitment to helping members of the community enormously - performing in old people's homes and homes for sick people, in hospitals and centres for the disabled, making it possible for people who are unable to get to the opera house because of physical or financial reasons to enjoy some live music. They also take part in specially adapted operas for children on tour to schools in the region and events in the Intermezzo - Opera at Lunchtime , made possible by the Deutsche Bank Stiftung, and Opera to Go series - see Opera for You in the main menu.
MEMBERS OF THE OPERA STUDIO 2018/19

Florina Ilie - soprano
Julia Moorman - soprano
Bianca Andrew - mezzo-soprano
Kelsey Lauritano - mezzo-soprano
Jaeil Kim - tenor
Michael Petruccelli - tenor
Iain MacNeil - baritone
Anatolii Suprun - bass
MANAGEMENT
Sebastian Weigle, Bernd Loebe Artistic Management
Felice Venanzoni Head of Artistic Development
Michał Goławski Coach
Thomas Stollberger Organisation
email: opernstudio@buehnen-frankfurt.de
This project has been made possible by generous support from the Deutsche Bank Stiftung, the Stiftung Polytechnische Gesellschaft Frankfurt am Main and the Frankfurt Patronatsverein (Patrons) - Sektion Oper
Young singers, who have completed their training, are invited to apply to audition for the Opera Studio. Please send us:
- an up to date c.v. (including date of birth)
- an up to date photograph
- a list of roles you have studied or sung
- a recent recording (CD, DVD, mp3 or WMA) of 3 arias or Lieder - one of them sung in German, if possible
Applications to join the Opera Studio in the 2020/21 season much reach us by February 29th 2020.
and sent by post/mail to:
Opernstudio der Oper Frankfurt
Thomas Stollberger
Untermainanlage 11
60311 Frankfurt am Main
We receive an enormous amount of applications every year so we hope you understand that Oper Frankfurt will only be in contact with you if you are being considered to audition and the material you have sent by post will be not be returned.