Ensemble, Guests, Opera Studio & Opera Team
Opera Studio
Michael Petruccelli, Pilgoo Kang, Julia Moorman, Tianji Lin, Danylo Matviienko behind Reihe: Florina Ilie, Karolina Makuła & Kelsey Lauritano.
© Wolfgang Runkel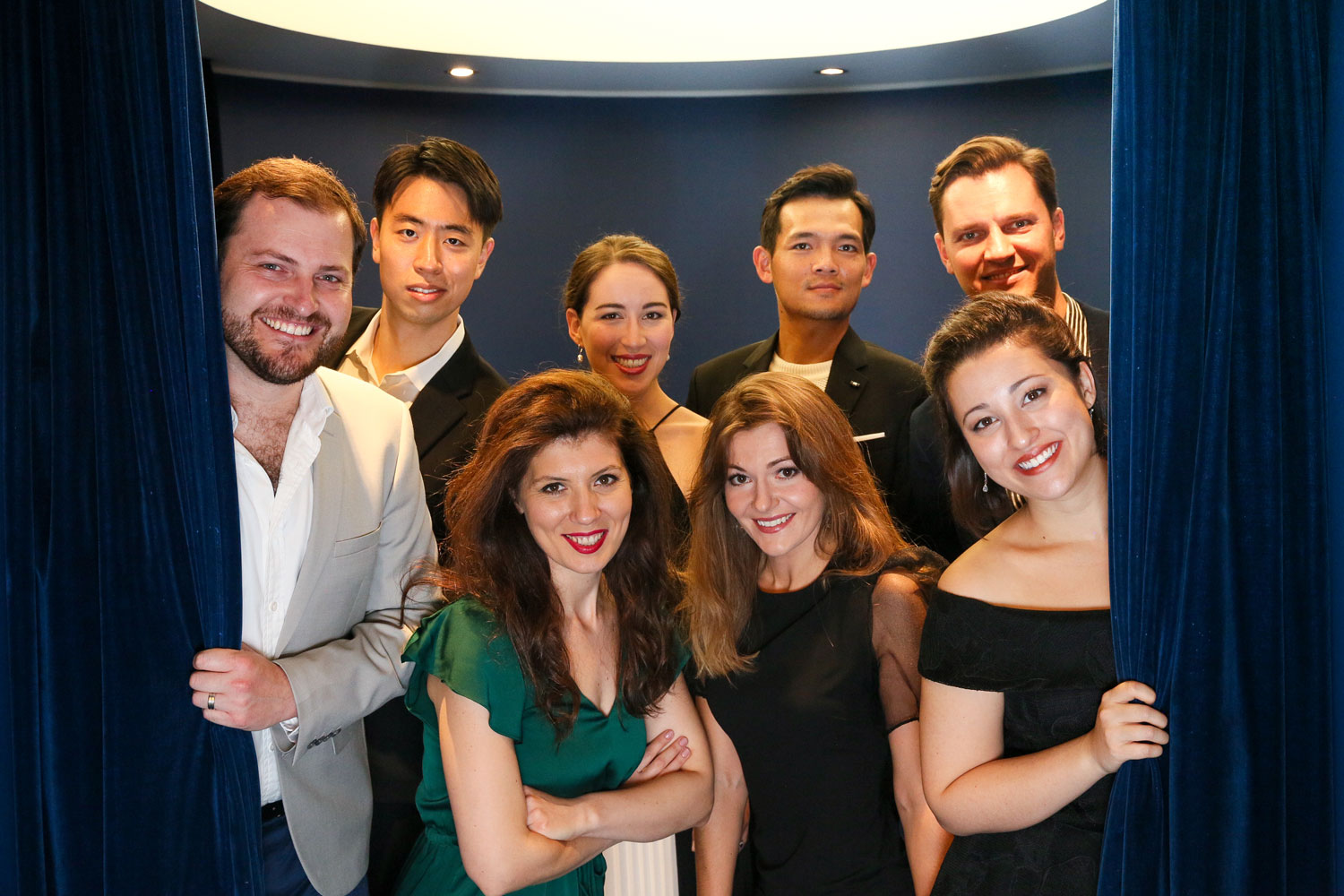 >
Oper Frankfurt's aim when the Opera Studio opened in 2008/09 was to help young singers embarking on a career by actively supporting them, providing professional teachers to help them hone their skills and, possibly, building a long term relationship with some of these highly qualified young artists.
The splendid concert in 2018 to celebrate the Opera Studio's first 10 years was living proof that our work has paid off, especially when one looks at the international careers enjoyed by Alumnis including Paula Murrihy, Iurii Samoilov Kihwan Sim who also took part.
And two further members of the studio join Oper Frankfurt's ensemble in 2019/20: Bianca Andrew and Iain MacNeil.
Paula Murrihy – who joined the studio in 2008/09, when it began - returns in 2019/20 to sing the title role in a new production of Gabriel Fauré's Pénélope and Danae Kontora is back to sing Francesca in the world premiere of Lucia Ronchetti's Inferno, which was commissioned by Oper and Schauspiel Frankfurt.
In 2019/20 Florina Ilie, Julia Moorman, Kelsey Lauritano, and Michael Petruccelli will be joined by the Polish mezzo-soprano Karolina Makuła, Chinese tenor Tianji Lin, Ukrainian baritone Danylo Matviienko and Koreyn bass Pilgoo Kang.
Members of the opera studio 2019/20
Florina Ilie – soprano
Julia Moorman – soprano
Kelsey Lauritano – mezzo-soprano
Karolina Makuła – mezzo-soprano
Tianji Lin - tenor
Michael Petruccelli – tenor
Danylo Matviienko – baritone
Pilgoo Kang – bass
MANAGEMENT
Bernd Loebe & Thomas Stollberger
Felice Venanzoni Head of Artistic Development
Michał Goławski Coach

email: opernstudio@buehnen-frankfurt.de
Young singers, who have completed their training, are invited to apply to audition for the Opera Studio. Please send us:
- an up to date c.v. (including date of birth)
- an up to date photograph
- a list of roles you have studied or sung
- a recent recording (CD, DVD, mp3 or WMA) of 3 arias or Lieder - one of them sung in German, if possible
There are no vacancies in the Opera Studio for 2020/21!
Applications for
2021/2022
should arrive by
February 28 2021
sent by post/mail to:
Opernstudio der Oper Frankfurt
Thomas Stollberger
Untermainanlage 11
60311 Frankfurt am Main
We receive an enormous amount of applications every year so we hope you understand that Oper Frankfurt will only be in contact with you if you are being considered to audition and the material you have sent by post will be not be returned.
This project has been made possible by generous support from the Deutsche Bank Stiftung, the Stiftung Polytechnische Gesellschaft Frankfurt am Main and the Frankfurt Patronatsverein (Patrons) - Sektion Oper & Giersch Stiftung.