Concerts
8th Sir Georg Solti International Conducting Competition
Final Concert
February 12 2017,
11am in the Alte Oper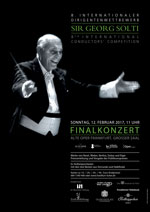 293 young conductors from 59 countries in all five continents applied to compete in this competition. The best 22 were invited to be judged by the Frankfurt Opern- und Museumsorchester and hr-Sinfonieorchester. The three deemed the most talented take part in the final round.
They each conduct hr-Sinfonieorchester in an exciting finale. The jury decide who will be the winner of the 8th International Sir Georg Solti Conducting Competition and the audience get to make their own award too.
After the winner has conducted an encore all members of the audience are invited to a glass of sparkling wine in the Alte Oper's foyer. Apply for Tickets for the Finale here.